Get Involved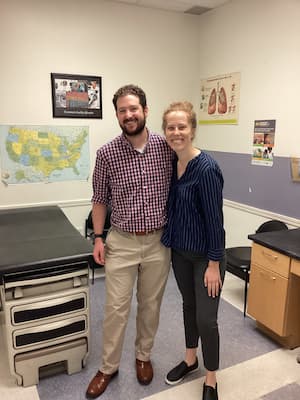 Thank you for taking the time to learn more about Urban Health Project. If you are interested in becoming involved as a summer intern, Co-Director, donor, or board member, please refer to the information below.
---
Summer Intern Information
Each Urban Health Project intern is a medical student who has completed the first year of coursework and is seeking an opportunity to give back to the community while gaining a greater appreciation for and understanding of the many factors that impact health. The intern will complete an eight-week internship at a site within the Greater Cincinnati or Northern Kentucky area during the summer between their first and second years of medical school.
Responsibilities of interns vary widely from site to site. Examples include leading group sessions for those who utilize site services, participating in the daily administrative duties involved in running an agency, and interacting with clients at meals, on outings, and during chores. Other sites request that interns accompany doctors, nurses, counselors, or social workers as they see patients and then allow the interns to use their experiences as medical students to develop projects that benefit clients.
Responsibilities:
Work 8 of the 10 weeks during the summer
Complete a project furthering the work of the assigned site
Complete weekly reflections on insights and experiences
Attend Urban Health Project-coordinated enrichment activities throughout the summer
Create and present a poster about the internship experience at the Committed to Community Event at the end of the summer
Maintain good academic standing with the University of Cincinnati College of Medicine
Benefits:
Interact with and assist underserved populations in Greater Cincinnati
Gain a better understanding of the cultural, socioeconomic, and environmental factors that impact health
Learn how service-focused community organizations function
Receive a $4,160 stipend
How to apply:
An interest meeting will be held for all first-year students interested in applying for a summer internship. Applications will be available in December. Interviews may be requested by some site supervisors throughout the month of March.
---
Co-Director Information
The Co-Directors are responsible for maintaining and advancing Urban Health Project and ensuring constant progress towards its goals. Two medical students serve as Urban Health Project Co-Directors for one year beginning in the summer immediately following their first year of medical school. Co-Directors are responsible for organizing and overseeing the summer internships and activities; reporting the progress of Urban Health Project to the Board of Advisors; researching and writing grants to secure annual funding; increasing public awareness of the organization; and hiring interns for the following summer. While a great deal of this work is completed throughout the summer, a portion must be completed through their second year of medical school. During their third and fourth years, past Co-Directors act as advisors to the current Co-Directors and receive small stipends for their involvement.
Responsibilities:
Coordinate and oversee summer interns and internships
Conduct site visits and evaluations
Organize the Committed to Community Event
Hold three meetings with the Board of Advisors
Research and apply for grants
Maintain contact with sites, funders, and alumni
Increase public awareness of the organization
Serve as an advisor during the third and fourth years of medical school
Benefits:
Gain a better understanding of the cultural, socioeconomic, and environmental factors that impact health
Make contacts at organizations within the community caring for underserved populations
Have an opportunity to run a nonprofit organization and to gain leadership and management experiences
Learn about seeking and writing grants for nonprofit organizations
Have flexibility in the summer work schedule
Receive a $4,160 stipend during the summer, a $1,500 stipend during the third year of medical school, and a $500 stipend during the fourth year of medical school
How to apply:
Co-Director applicants will use the same application form as the internship applicants and submit an additional essay to outline their qualifications for the position
---
New Donor Information
The philosophy of Urban Health Project is that adequate medical care requires skills in communication, perception, and empathy that go beyond basic medical knowledge. By supporting Urban Health Project, you are providing medical students with the opportunity to gain experience in addressing the broad factors that impact health care.
Additionally, when you donate, you will be investing in the community by allowing our interns to provide valuable services to our partner organizations that work hard to improve the Greater Cincinnati area.
Urban Health Project depends on funding from private grants and generous individual donors. Please take a moment to learn more about our program and consider donating to this worthwhile cause. If you have any questions or wish to speak with one of the Co-Directors regarding your donation, please feel free to contact us at urbanhealthproject@gmail.com.
Donations may be made online through the UC Foundation (click here to donate now!) or by sending a check to:
Urban Health Project
The University of Cincinnati Foundation
PO Box 19970
Cincinnati OH, 45219-0970
---
Advisory Board Member Information
Urban Health Project is constantly searching for local professionals who are willing to contribute their knowledge and experience to help further the mission of Urban Health Project. The Advisory Board meets three times a year to discuss the progress of Urban Health Project and develop ideas for the improvement of the organization. Official yearly terms run from June 1-May 31, but new members are invited to apply at any time to join mid-term. Board members may serve multiple one-year terms so long as they maintain an active status.
Board Members:
Dr. Joseph Kiesler
Dr. Lorraine Stephens
Dr. Laura Malosh
Jenna Hanner, MD
Molly Leavitt, MD
Andrew Frankart, MD
Sarah Smith
Christian Adams-Carey
Dr. Teresa Meier
Namratha Kolur
Isaiah Noel
Madeleine VandenBrink
Eunice Agyapong
Dolores Dodson
Dalton Hartwick
Pooja Kanthawar
Alec Murphy
Zohabe Bakali
Responsibilities:
Advise the Co-Directors and oversee the activity of Urban Health Project
Read and review material distributed by the Co-Directors
Attend or a send a proxy to at least one of the three meetings each year
Optionally serve on a committee as a chair or member
Benefits:
Become involved in an organization that enriches the education of medical students as well as the lives of those in the community
Use your knowledge and skills to contribute to a positive cause
Learn about organizations in the community caring for underserved populations
How to apply:
Send the Co-Directors your resume/CV along with a brief statement indicating your interest in joining Urban Health Project's Board of Advisors. Email your materials
Upon receiving your information, the Co-Directors will confirm receipt with you and bring your request for membership to a vote at the next meeting of the board. You will be notified shortly after this meeting regarding the outcome.