Our Mission
Urban Health Project educates, inspires, and challenges medical students through their service to vulnerable populations in Greater Cincinnati to produce more socially responsible physicians who have a greater understanding of factors that impact health.
---
Our Vision
Urban Health Project strives to improve health care by molding future physicians who will have a personal understanding of the factors that impact health and use this knowledge to provide better care to all populations, especially the underserved.
Summary of Urban Health Project
This year marks the 36th anniversary of Urban Health Project. Urban Health Project was developed in 1986 by medical students at the University of Cincinnati College of Medicine and operates as an entirely student-run, nonprofit 501(c)(3) organization. The core goals of UHP are to improve community-based health care and to provide medical students with meaningful service-learning opportunities.
Two medical student Co-Directors coordinate the internships and conduct fundraising to support the organization. During the summer of 2022, in partnership with 14 partner organizations, 19 medical students were placed in eight-week internships providing service to underserved populations in Greater Cincinnati, including the homeless, mentally ill, disadvantaged women, children, the elderly, at-risk youth, minority populations, refugees, and individuals who struggle with mental disorders or addiction. Please see the Sites page for more information on specific partner organizations. Responsibilities of interns vary widely from site to site. Examples include leading group sessions for those who utilize site services, participating in the daily administrative duties involved in running an agency, and interacting with clients at meals, on outings, and during chores. Other sites request that interns accompany doctors, nurses, counselors, or social workers as they see patients and then allow the interns to use their experiences as medical students to develop projects that benefit clients.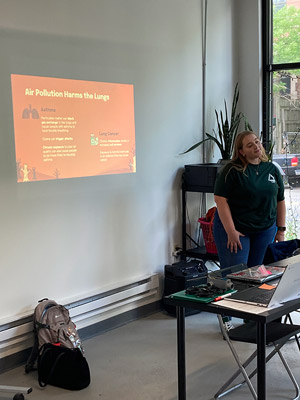 Despite the varying tasks at each site, the objective tying all internships together is the same: allowing medical students to develop a commitment to the community and to gain a better understanding of many cultural, socioeconomic, and environmental factors that impact health while simultaneously contributing to the care of those who have the greatest need for support and assistance.
At the end of the summer, the Co-Directors coordinate the Committed to Community Event for everyone involved in Urban Health Project. This forum is a way for the community to learn about each intern's individual experience at their site, as well as to celebrate the contributions that each intern makes to further the mission of Urban Health Project. For this event, held each year at the end of July or beginning of August, interns present posters displaying information about their sites, their experiences, and their projects to those in attendance.
FAQ
How are interns matched with sites?
On the application, candidates indicate the characteristics they desire in their potential summer internships. Such characteristics include the balance between clinical and social service involvement; schedule and structure considerations; and populations the prospective interns would like to serve. Applicants are also invited to indicate if there are sites at which they would not be willing to work. The Co-Directors will send applications to appropriate sites for review. After reading the applications, sites rank the candidates whom they feel are the best fit for their organization. Some sites, though not all, conduct interviews during this process. Once all the rankings have been received, the Co-Directors place interns based on site and applicant preference as well as availability.
What if an intern wishes to apply to other summer experiences in addition to Urban Health Project?
UHP welcomes anyone who may be interested in applying to Urban Health Project to do so while concurrently applying to other opportunities. However, once an applicant is placed in an internship and accepts the position, they are contractually obligated to withdraw themselves from consideration elsewhere, and complete the internship they have accepted. Several sites offer part-time experiences, so there is a potential for combining an internship with an additional experience. Please contact the Co-Directors for more information
How many vacation days are allowed for interns?
The summer after the first year of medical school is ten weeks long; of those ten weeks, interns are expected to work the equivalent of 40 eight-hour days (eight weeks). Depending on what is arranged with the site, interns may take days off throughout the summer or take an entire week off at once.
Do interns have to work on weekends/evenings?
Many partner organizations are open 24/7 and, as such, may request that an intern's schedule vary from the typical 9-5 workday. However, any regular time spent outside of this time window will be set before the beginning of the internship and will count towards the work requirements for interns. If you are limited to typical work hours, please indicate so on your application so that we can place you appropriately.
If I don't have a car, can I still be involved in an Urban Health Project internship?
Yes, many of our sites are accessible by public transportation. If you will not have access to a vehicle during the summer, please indicate so on your application. Interns are responsible for securing their own transportation to their sites.
Will applying for a Co-Director position in addition to an internship make me more likely to receive an internship?
No, it will not. The responsibilities and commitments of a Co-Director are very different from those of an intern. Urban Health Project understands that people's interests and talents fall in different areas and, therefore, applicants will not be given an advantage, nor will they be penalized, based on whether or not they choose to apply for the position of Co-Director.